| | |
| --- | --- |
| | |
Dark Gaming vBulletin Skin - Darkvision 4.2.1 Details »»
Dark Gaming vBulletin Skin - Darkvision 4.2.1
Mod Version: 1.09
, by
TalkTemplate
(
Designer
)
Developer Last Online: May 2013
---
vB Version: 4.2.1
Rating:

(162 votes - 4.19 average)

Installs:

830

Released: 30 Dec 2009
Last Update:

03 Sep 2012

Downloads:

7040

Supported
DarkVision vBulletin Skin
SEO Services
Updated for vBulletin 4.2.1!
Pro Version Includes:
The entire skin has been improved significantly and the faster page loading has shown an increase in search engine positions and user loyalty.
Darkvision Pro includes a lifetime of updates supporting vBulletin 4, 24/7 Pro Support, and instant version releases and bug fixes.
Click Here to Upgrade to DarkVision Pro

Name
: DarkVision (Fluid or Fixed format)
Live Preview
:
Blue Darkvision [Fluid]
Live Preview
:
Blue Darkvision [Fixed]
Live Preview
:
White Darkvision [Fluid]
Live Preview
:
White Darkvision [Fixed]
Live Preview
:
Yellow Darkvision [Fluid]
Live Preview
:
Yellow Darkvision [Fixed]
App Store Optimization
|
App Store Ranking
|
google play reviews
Instructions
1. Upload the xml file into a new style
2. Upload contents of 'darkvision' to '*vbulletin files*/cpstyles/darkvision'
3. Edit the logo 'darkvision/misc/banner.jpg'
4.
Banner PSD can be found at TalkTemplate.com
Supported Layouts
-CMS
-Forums
-Blogs
To make the style work for the CMS
, you have to click the edit (pencil) button next on the main page (content.php) and manually set the style choice.
The CMS styling isn't very intuitive. (many people have this problem)
Designed by TalkTemplate.com vBulletin 4 Skins
Please support us by leaving a link back to our website.
Premium Version
Free Supported Version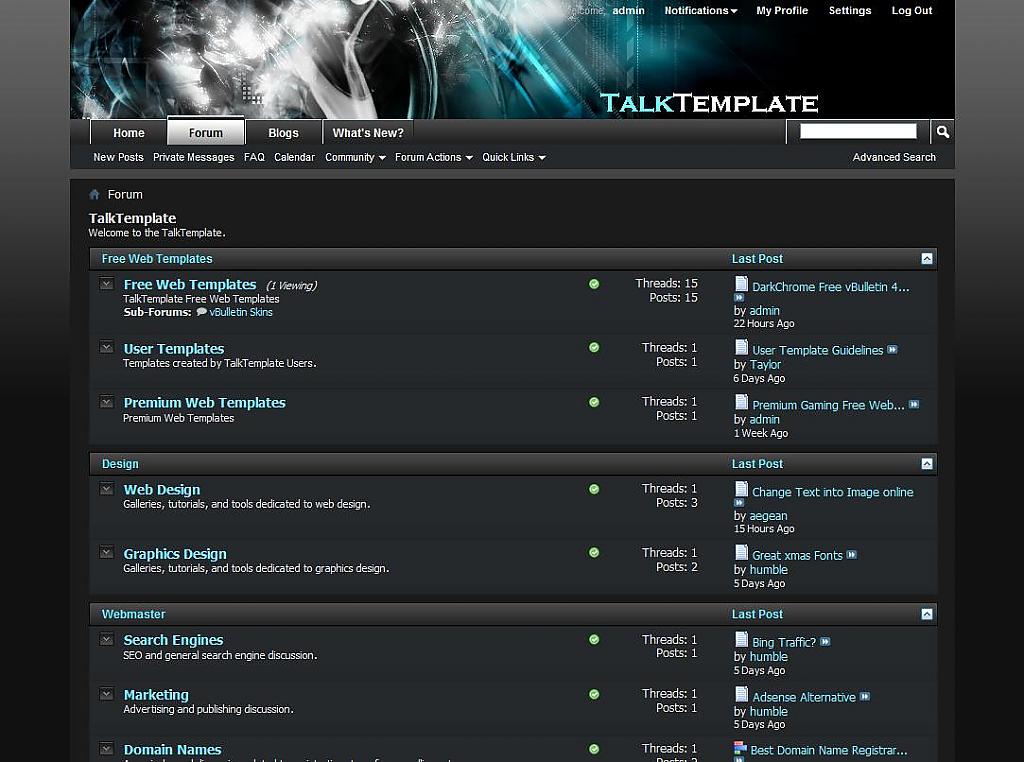 Changelog:
1.00 Released (vBulletin 4 Gold)
1.01 Updated sidebar colors
1.02 Many bug fixes and color changes.
1.03 Fixed popular bugs. Added "yellow" and "white" color schemes.
1.04 Browser Bug fix. 4.0.2 Compatible. Tested with several Add-on Modifications.
1.05 CSS Fixes, 4.0.3 Compatible. Fixed Versions Released
1.06 Complete Update for version 4.1.2
1.07 Complete Update for version 4.1.7
1.08 Update for version 4.1.10
1.09 Update for version 4.2.0
Update Instructions:
Download the attachment and upload the file 'breeze.xml' to a new style and delete the old one. Replace all images with the new folder.
Cheap Web Hosting
If you installed this style and wish to receive important style updates, please click here.
Download Now
Only licensed members can download files, Click Here for more information.
Screenshots
Show Your Support
To receive notifications regarding updates -> Click to Mark as Installed.
If you like this modification support the author by donating.
This modification may not be copied, reproduced or published elsewhere without author's permission.
Currently Active Users Viewing This Thread: 1

(0 members and 1 guests)
Posting Rules

You may not post new threads

You may not post replies

You may not post attachments

You may not edit your posts
All times are GMT. The time now is
08:57
.