| | |
| --- | --- |
| | |
Sidebar Anywhere (Formerly Sidebar for Activity Stream) by BOP5 Details »
Sidebar Anywhere (Formerly Sidebar for Activity Stream) by BOP5
Mod Version: 2.2.0
, by
BirdOPrey5
(
IB Staff
)
Developer Last Online: Apr 2022
---
vB Version: 4.x.x
Rating:

(40 votes - 4.80 average)

Installs:

367

Released: 22 May 2012
Last Update:

06 Dec 2012

Downloads:

2432

Not Supported Uses Plugins Auto-Template Translations
Brought to you by BirdOPrey5
www.Qapla.com
Version 2.2.0
The new Activity Stream for VB 4.2.0 is very nice but it feels like it is missing something- and what it is missing is a
sidebar.
Ideally at some point VB will release a custom sidebar built just for the Activity Stream but until then this quick mod will let you use the built in forum sidebar on the Activity Stream.
As of version 2.0 besides just working on the Activity Stream the mod can now add a sidebar to ANY vBulletin page including forums, threads, groups, albums, who's online, forum leaders, and more. In fact you can easily add the sidebar even to custom pages from custom mods.
New Features
Now works on ANY vBulletin Page (except blogs which have their own sidebar)
Option to align sidebar with page content or top of page
Option to Disable Sidebar Collapse Option (By Usergroup in 2.1.0)
Collapsed sidebar state now "remembered" on different pages
Option to enable Sidebar by Usergroup
Option to disable Sidebar by Forum (if enabled for forums/threads)
Option to disable Sidebar in specific styles
Options to disable sidebars if mobile devices detected*
NOTE:
To enable mobile device detection options you must install the
Mobile Browser Detector
mod.
Live Demo: Qapla.com Activity Stream
You can enable or disable the Sidebar Anywhere independently of the forum sidebar but they will both display the same content (blocks.)
NEW
- If you need to have different blocks on different pages check out this
add-on
.
You must have at least 1 block setup and active for the sidebar to show.
Unlike most of my other mods this mod is enabled by default upon installation. Be default it is setup to show only on the Activity Stream and register.php pages.
I am aware there is already a mod out there "Everywhere Sidebar" by another coder. This is completely different code and I made this because my "
Staff Online Sideblock
" mod did not work on Sidebar Everywhere but it does work on this mod.
This mod requires at least VB 4.2.0 to work on the Activity Stream but should work on older VB 4.x.x versions on other pages.
Full view of admin cp options:
http://www.qapla.com/mods/ss/sidebar...tings_full.jpg
.
The old version Zip file Sidebar for
Activity Stream by BOP5 v11.zip
works only on the Activity Stream.
PLEASE READ THE INSTRUCTIONS INCLUDED WITH THIS MOD- THEY ANSWER MOST OF THE QUESTIONS ABOUT HOW TO USE IT.
------------------------------------------------------
Please "
Mark as Installed
" if you use this.
Donations always appreciated.
Nominate
MOTM
if you
LOVE
it!
Download Now
Only licensed members can download files, Click Here for more information.
Screenshots
Show Your Support
To receive notifications regarding updates -> Click to Mark as Installed.
If you like this modification support the author by donating.
This modification may not be copied, reproduced or published elsewhere without author's permission.
21 Dec 2018, 15:10
---
Originally Posted by
gnrx
After type this question, yes, I think, the problem isn't in the mod, problem is in the style...

Actually, I use a

Christmas style

<snipped>
Ok, let's try it a different way...
go to admincp> forums & moderators> Forum Blocks Manager
look at the blocks you have set for those particular forums, click edit block for each one that displays and see if the width is specified in those blocks.
This can be in the "
block content
" field OR in the "
block template to use
" field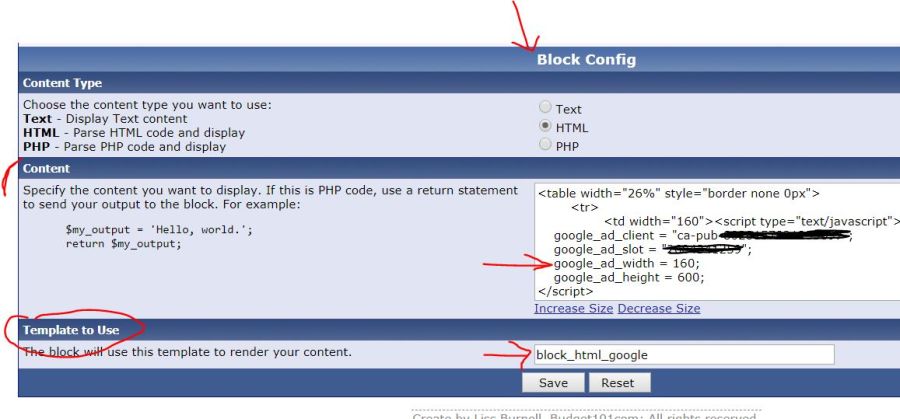 To look in the template itself you'd look and see what the template is called (in the example picture it's block_html_google ), then go to your style and find that template & look for width settings.
If you cannot locate the issue, here is a final solution that may help you:
Go to admincp> Settings> Options> general settings>Add Template Name in HTML Comments> set to YES.
Then open your site in google chrome, go to the page that isn't displaying properly and right click on the sidebar, choose inspect.
It will display the code and allow you to see which template needs to be adjusted, here is an example from my page to show you what it should look like:
once you find the template that isn't displaying the way you'd like, you can go to styles & templates> the style you're trying to fix> find the offending template and edit it directly.
Have a lovely weekend
No members have liked this post.
---
Last edited by Budget101; 21 Dec 2018 at

15:16

.
10 Feb 2019, 22:46
budget101...Not only has a weekend gone by, but more than a month has passed ...
They came Christmas ... then I did server migration to a self managed ... and as Christmas passed that "little problem" with that template did not have it ...
But after "re-adjusting" the new server and some other thing that was pending on the server I put with this ...
And ... ohh! Surprise!!!
In the new server (perhaps by chance) this problem has disappeared !!!
But I owe you a few thanks for more than a month
No members have liked this post.
22 Nov 2019, 22:09
Hello.
Since a some time I want made some modification in this mod but I don't know how made...
I wat explain well
In forum/index page, appears sidebar with some blocks, ok.
When enter in some forum/subforum, appears sidebar but with others blocks (really with less blocks) not the sames blocks that in index forum.
I read the txt I view instructions for ad sidebar in custom pages, but list of forums/subforums, aren't custom pages.
Is this possible?
Thanks in advance!
No members have liked this post.
10 Apr 2020, 21:58
Hello all. Just installed this mod on vBulletin 4.2.5...and for the most part...all seems to be running fine so far. Thanks much Bird of Prey!
One question. One area that I would like to add Sidebar Anywhere to is the "New Posts" page. My site just like vBulletin.org has a "New Posts" link...and I believe my site uses the same code for the New Posts page as vBulletin.org.
In the "Custom Scripts & Templates" section of Sidebar Anywhere...what would the script look like that I need to add for Sidebar Anywhere to appear on the New Posts page?
Here's the Sidebar Anywhere on how to do it...and what the syntax should be (please see attachment).
Thanks
No members have liked this post.
11 Apr 2020, 11:31
Join Date: Jun 2008

Real name: Joe D.
You're welcome.

New Posts I believe is just a search.php page IIRC so the script name would be: search

I'm not sure the template but you probably can't limit it to just new posts, it would need to be all search results or none.


Look in your template manager to see what the various Search templates are, probably something like "search_results" or the like. Unfortunately I have no installed VB4.x to look at anymore.
No members have liked this post.
22 Apr 2020, 16:22
| | | | |
| --- | --- | --- | --- |
| | | | |
in php of act of action
---
hello I installed the product and it works lla great now since that in my site is installed ipbroarcade I wanted to create a block in the sidebar by recalling a php file of ipbroarcade example xxxx.arcade.php and make it become sliding. I try with all the php codes but I can't. Can you give me a script example?
No members have liked this post.
03 Jun 2020, 14:28
Anyone know what the newest PHP version Sidebar Anywhere works with?

I'm running PHP 5.6...and was wondering if Sidebar Anywhere works with PHP 7.0 or newer.

Thanks

p.s. I looked thru about last 10 pages of this thread...and didn't see anything mentioned newer than PHP 5.5.
No members have liked this post.
03 Jun 2020, 14:48
Join Date: Aug 2006

Location: Ottawa, Canada
Working fine for me on vB 4.2.5 with PHP 7.1.33
No members have liked this post.
03 Jun 2020, 19:18
I'm planning on a PHP upgrade for my site very soon...and I'm in the process of reviewing all the site plugins for PHP compatibility.
No members have liked this post.
Currently Active Users Viewing This Thread: 1

(0 members and 1 guests)
| | |
| --- | --- |
| Posting Rules | |
All times are GMT. The time now is
04:00
.