| | |
| --- | --- |
| | |
Professional vBulletin 4 Styles - Breeze (Blue) 4.2.1 Details »
Professional vBulletin 4 Styles - Breeze (Blue) 4.2.1
Mod Version: 1.05
, by
TalkTemplate
(
Designer
)
Developer Last Online: Mar 2017
---
vB Version: 4.2.x
Rating:

(35 votes - 4.46 average)

Installs:

438

Released: 18 Jan 2010
Last Update:

19 Jan 2017

Downloads:

4790

Not Supported
UPDATED: Breeze Skin vBulletin 4 (All Versions)
Download Breeze Premium Skin
Instructions
1. Upload the folder '/Breeze' to 'YOUR_FORUM_URL/cpstyles/Breeze'
2. In your vBulletin AdminCP go to 'Styles & Templates > Download/Upload Styles'
3. Upload the Breeze XML file and click 'Import'
4. Set the style as the default style in 'Settings > Options'
Supported Layouts
-CMS
-Forums
-Blogs
To make the style work for the CMS
, you have to click the edit (pencil) button next on the main page (content.php) and manually set the style choice.
The CMS styling isn't very intuitive. (many people have this problem)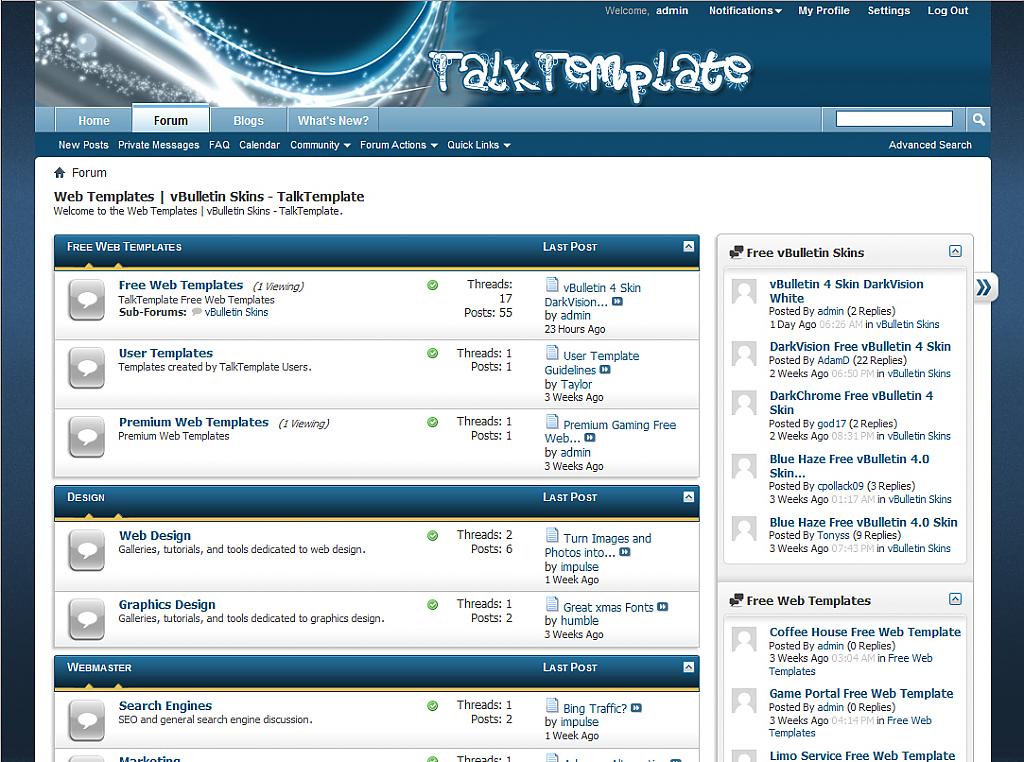 Changelog:
1.00 Released (vBulletin 4.0.1)
1.01 Updated for vBulletin 4.0.2. Various bug fixes. [Fixed] Version released upon request.
1.0.2 Updated for vBulletin 4.1.7
1.0.3 Updated for vBulletin 4.1.11
1.0.4 Updated for vBulletin 4.2.0
1.0.5 Updated for vBulletin 4 (all versions)
Update Instructions:
Download the attachment and upload the file 'breeze.xml' to a new style and delete the old one. Replace all images with the new folder.
If you installed this style and wish to receive important style updates, please click here.
Download Now
Only licensed members can download files, Click Here for more information.
Screenshots
Show Your Support
To receive notifications regarding updates -> Click to Mark as Installed.
If you like this modification support the author by donating.
This modification may not be copied, reproduced or published elsewhere without author's permission.
Currently Active Users Viewing This Thread: 1

(0 members and 1 guests)
| | |
| --- | --- |
| Posting Rules | |